Our Products
Iwamoto Shop's Passion for Shimenawa Decorations
Each rope is twisted one by one by the hands of Iwami craftsmen. 
The tradition passed down from generation to generation lives on and takes shape with our thoughts and feelings.
The flexibility, strength, and beauty of these decorations have always fascinated people's hearts and continue to do so.
The rice straws grown for the shimenawa decorations are a treasure filled with the care and attention that Iwamoto Shop is committed to.
Each and every strand is thick and supple, in the shiny lines the strength of shimenawa decoration lies.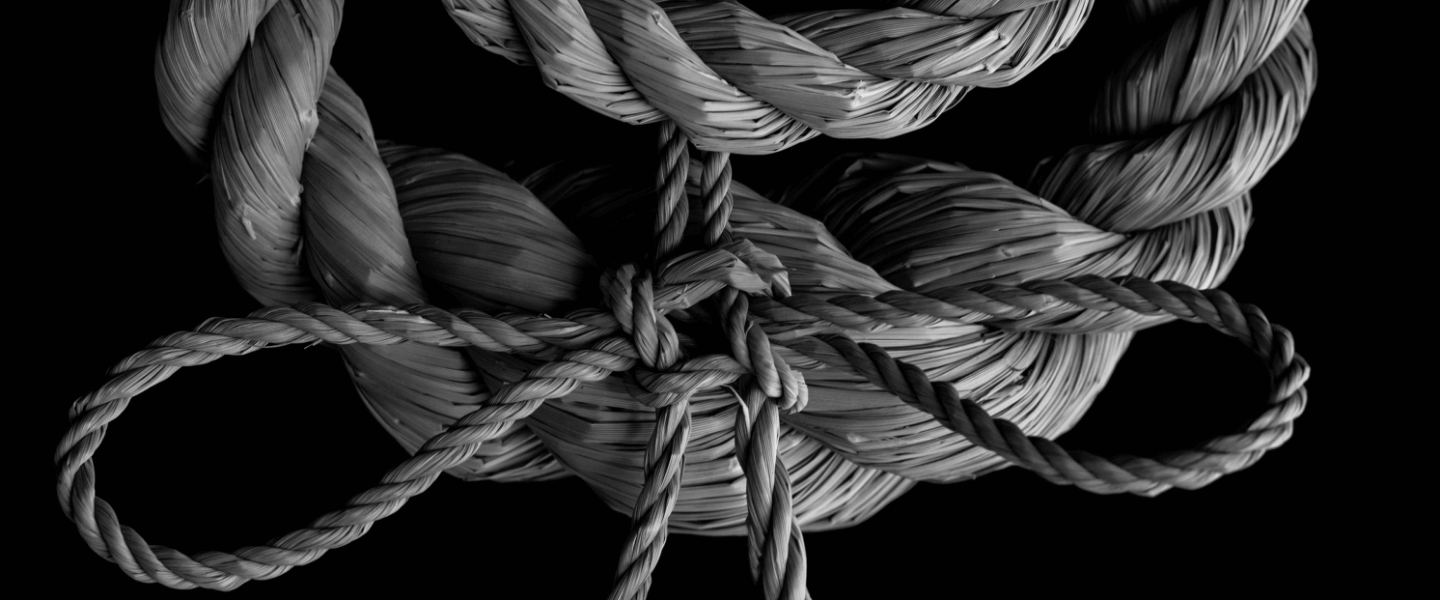 The origin of the shimenawa decoration is recorded in the Kojiki, and the "shime" (=to occupy) in shimenawa means the place "occupied" by the gods.
The reason for decorating shimenawa is to show the gods that they have a welcoming house for the new year.
It also serves as a defensive object to ward off evil spirits.
Iwamoto shop uses ancient rice varieties, which are easy to weave. They are woven into beautiful and robust designs.
We have been and will continue to pass on Traditional Japanese Culture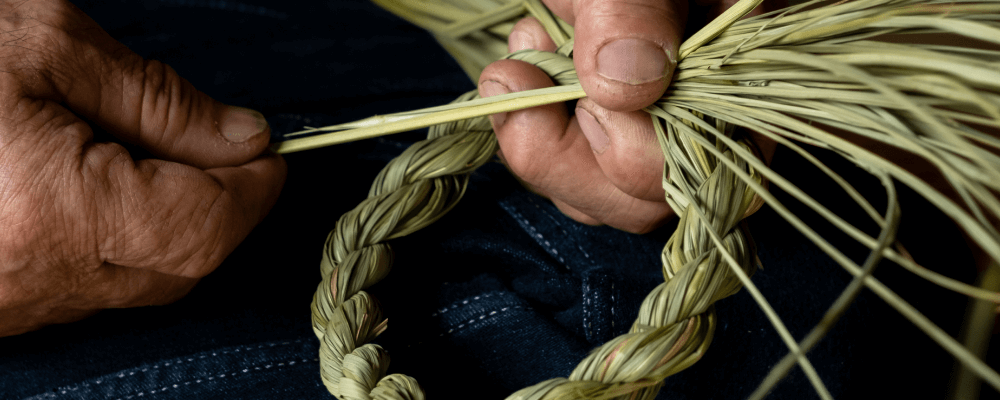 Iwami is home to many artisans who have been preserving and passing on Japanese traditions since ancient times. Making shimenawa decorations is one of those traditions.
A shimenawa decoration is a twisted rope hung at shrine gates or on Shinto altars throughout the year.
Iwamoto Shop's shimenawa decorations are made by calculating the golden ratio to be durable and beautiful, so that they can be kept close by for a long time.
Production and Shipping Time
Cultivation Season

Seed rice sown in seedling boxes will germinate in about one week when the conditions of moisture, temperature, and oxygen are met. Seedlings that have grown to 12 to 15 cm in a seedling box are transplanted into the rice field end of April.

Harvest time

Rice straws used for shimenawa decorations are harvested around July, before the ears come out. It grows taller than the rice that is being harvested for rice production, with strong, sturdy, thick stems and dark green leaves. The harvested rice will then be immediately dried out.

Production Season

Iwamoto Shop produces shimenawa decorations all year round, regardless of the season. Leaves on the lower part of each plant will be removed by hand before weaving the rope. The rice straw is made into several bundles and braided into a rope to make a shimenawa decoration.

Shipping Season

Once the production period is completed, the shimenawa decoration can be delivered to customers.
Recent Sales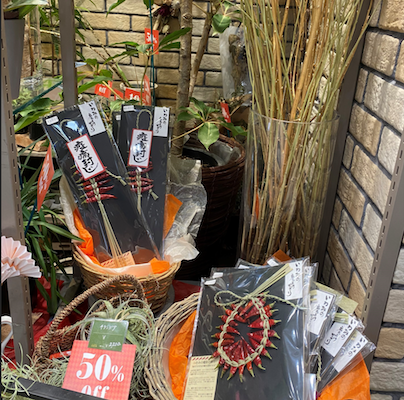 Liberte
Sold at les mille feuilles de liberté
Liberte, a flower shop in Gotanda, Tokyo, has been selling shimenawa decoration for more than 10 years. They are sold from December on.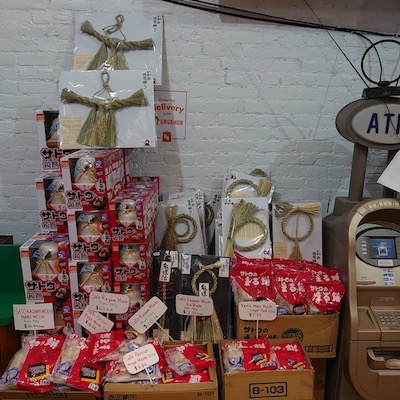 New York, NY
Sold at Sunrise Mart New York
Our products are sold at New York Sunrise Mart, a supermarket that has been selling Japanese food and ingredients to New Yorkers since 1995. Shimenawa are available from December on.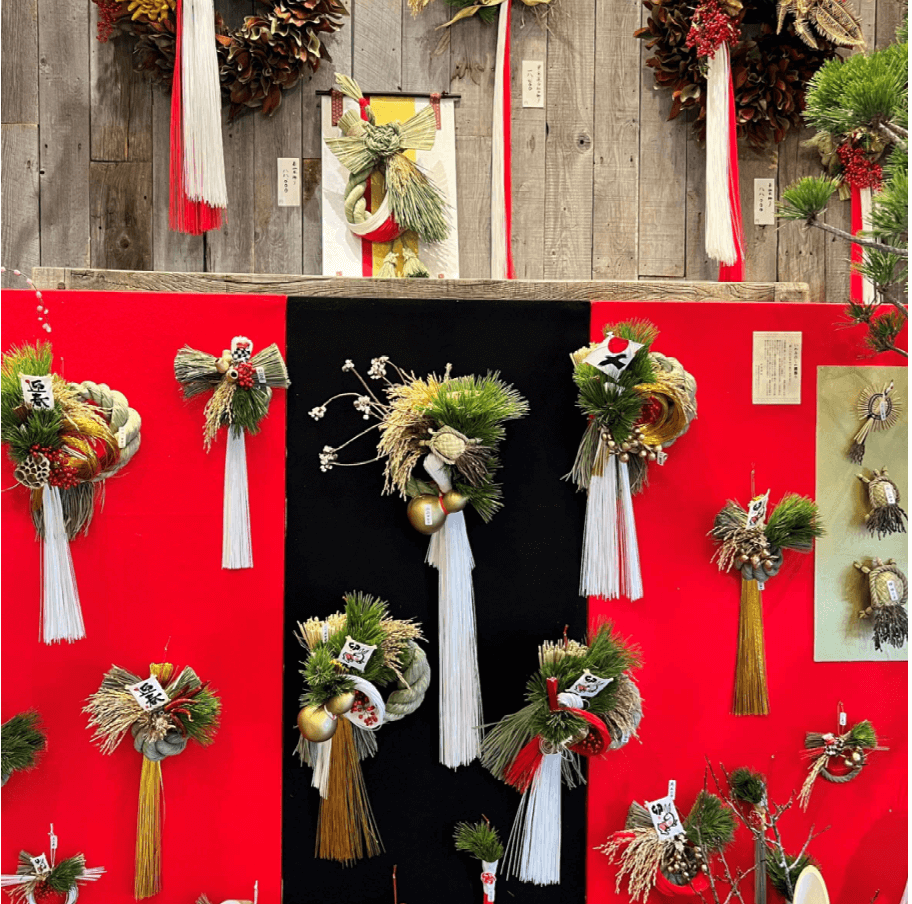 Tokyo, Japan
FUGA
Our shimenawa decoration is being sold at FUGA, a flower and plant shop in Omotesando area. They are being sold from December on.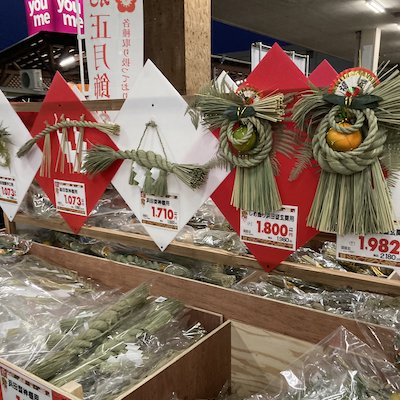 Masuda City, Shimane
Sold at Juntendo Masuda Store
We are selling our shimenawa decorations at Junendo Masuda home depot in Masuda City, Shimane Prefecture. It is the biggest supermarket in our region. Sales of shimenawa decorations start around December.